Ski exercises you can do at home
You're probably feeling just like us right now, dying to know whether winter 2020 will go ahead or will it become another COVID-19 casualty. At this point we don't know what the future holds but just in case we get to hit the slopes this winter we thought we'd compile some inspiration for you to get ski fit!
Whether you're hurtling down the hill at high speed or hiking the back country, the thing with skiing and snowboarding is it is way more fun if you're physically fit. It's not much fun to have to call it quits if you're tired or sore so it makes sense to prepare your body before heading to the mountains.
Skiing or boarding demands a combination of both technique and the muscle strength and flexibility to keep yourself balanced and able to accurately steer your way down the slope run after run.
Flexibility and stamina are the fundamental aspects of skiing and snowboarding so we've found a few exercises that focus on those areas.
Check out the following links for some workouts you can do from home to keep the ski dream alive during isolation.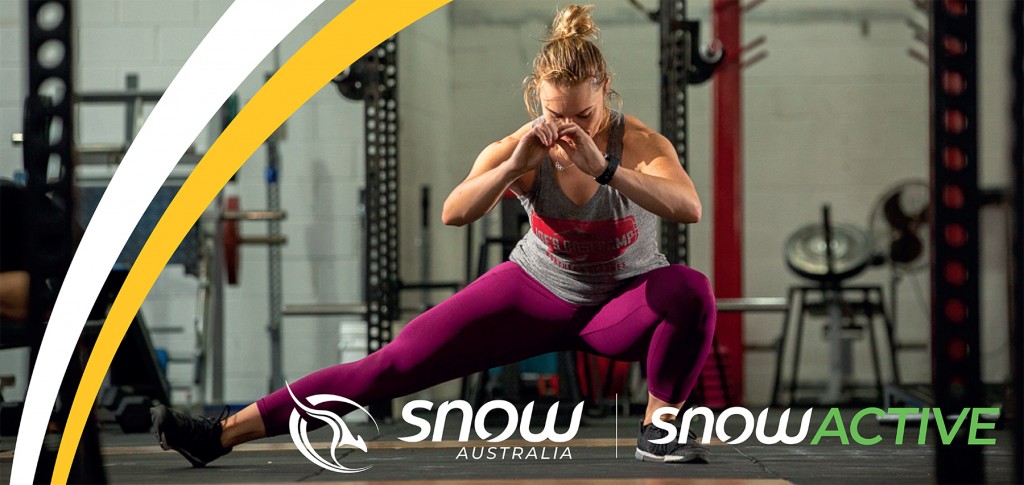 Just because we're at home, doing our part to flatten the spread of COVID-19, doesn't mean we can't make our legs burn like they would after a great day on the slopes, carving up Canada's Best Snow. This at-home workout has been designed to work your legs and your core and can be performed anywhere. All you need is about 6 feet of space and a timer. For this, at home, leg workout, you can use your body weight, cans of bubbly, Coors Light, or whatever you may have in your cupboards or weights if you have them. Set your timer for one minute! For each exercise, repeat the move as many times as you can in the one-minute interval. When your timer rings, give yourself a 10-second break before moving to the next exercise. Try and work through each exercise two or four times- working to balance the muscles on each side of your body. Save the workout for later from our blog: 👇 skibanff.com/explore/news-blog/delirium-dive-leg-burn1. Squat Jumps Forward and Back – Standing with your legs shoulder-width apart, drop down into a strong squat. Use your arms to help you jump forward and backward while maintaining your strong athletic squat.2. Single Leg Deadlifts – Standing in an athletic stance, with a soft bend in your knees and your feet shoulder-width apart, slowly tilt your upper body down as you lift your back leg parallel with the floor. Hold your leg up for a microsecond before returning your elevated leg back to the ground. For an added challenge, try to keep your back leg lifted as you stand up.3. Frog Jumps –Bend your knees and tap your hands, weights, or makeshift weights to the floor. From your low squatted position, jump up and bring your arms overhead.4. Single Leg Squats – Get back into your single leg deadlift position. Extend your back leg straight out behind you. Slowly bend down and up into your standing leg. 5. Spread Eagle Jumps – Bend your knees and tap your hands, weights, or makeshift weights to the floor. From your low squatted position, jump up as you jump up, spread your legs like you're doing an old school spread eagle off of one of our terrain park jumps.6. Racer Turns – For this exercise, it's fun to pretend you're a world cup downhill racer. Get into your deep tuck. From your tuck lift your right leg up as you turn your squat to the left, and back to the center. Once back at the center, lift your left leg as you turn to the right and back to the center.7. 180 jumps– Bend your knees and tap your hands, weights, or makeshift weights to the floor. From your low squatted position, jump up and turn your body 180 degrees your natural way stick the landing, tap the floor and jump turn 180 degrees your unnatural way.8. Fall Downs– With your feet shoulder-width apart activate your core. Bring your weight forward as you let gently fall forward. Allow your arms to catch you, as you hold a bear plank for a microsecond. Bring your weight back into your heels and use your hamstrings to bring you back to a standing position.9. Fast Feet –From your athletic stance, start to run your feet in place as fast as you can go. Faster! Faster! 10. Tuck Leans –Get back into your tuck position, and lean deep to your right. Use your left oblique muscle to pull you up. Once your back at center, lean deep to your left and use your right oblique muscle to pull you back to standing.

Posted by Banff Sunshine Village on Tuesday, 7 April 2020