Summer MTB Events and Activities at Thredbo and Snowy Mountains region
Thredbo and the wider Snowy Mountains region continues to be Australia's premier Mountain Bike destination, with new trails, new events and new activities for riders of all ages and skill levels.
In this article you'll find everything you need to know if you're thinking of heading to the Snowies this Summer to go mountain biking:
Thredbo MTB Events
Snowies Mountain Bike Festival
Thredbo Valley Track (TVT)
Jindabyne Trails
Mt Gladstone MTB Park Cooma
Thredbo Mountain Bike Park
Thredbo Mountain Bike Park Trails
Although the official opening for season 2021-22 was scheduled for Saturday 20 November, late season snowfall has delayed the season start by a week, to Saturday 27 November. The summer season runs through to Monday 25 April. This summer, Thredbo Resort expands with new trails, progressive jump & skill parks and new clinics and programs for all ages. The mix of trails including gravity trails, cross country loops and jump parks feature something for everyone, from first timers through to seasoned professional racers.
Key highlights are the new Sidewinder trail, and Merritts Gondola now offering MTB access.
Check out the Thredbo Resort MTB trails and tracks here.
Thredbo Mountain Bike Events
The increasingly popular Gravity Series returns to Thredbo Resort this summer, along with the iconic Cannonball MTB Festival. Students will again converge on Thredbo in early 2022 for the Australian MTB Interschools event. Thredbo MTB School continues to expand its program, with school holiday camps, Gravity Girls and specialised clinics for every level of rider to help you progress. View Thredbo MTB School programs here.
Summer Thredbo MTB Event Schedule
Sunday 12 December 2021: Gravity Series #1: Snowgum Sprint
Sunday 16 January 2022: Gravity Series #2: Ricochet Rumble
Sunday 16 January 2022: Gravity Series #3: Pump Track Party
Tuesday 8 – Saturday 12 February: Thredbo Cannonball Festival
Sunday 6 March 2022: Gravity Series #4: Supertrail Scramble
Wednesday 23 – Sunday 27 March 2022: Australian Mountain Biking Interschools
Sunday 24 April 2022: Gravity Series #5: Chainless Champs
—
Need accommodation for your summer trip to Thredbo? Take a look at our members accommodation information here. Public guests are also welcome at Boali Lodge. View visitor booking information here.
—
Snowies Mountain Bike Festival Returns
The Snowies MTB Festival is back in 2022 with the iconic Snowy Mountains playing host to the one of Australia's most iconic MTB stage races throughout the Thredbo Valley.
The three day event, from Friday 4 February to Sunday 6 February, features two multi-stage events:
The Wild Brumby: 5 Stages | 3 Days | 114kms
The Brumby: 4 Stages | 3 Days | 75kms
Plus the Sunday XC MTB Event offering distances of 15km, 30km & the marathon 45km.
If you don't want to tackle the events alone, you can share the riding between 2 riders in The Wild Brumby or Brumby course.
Whilst much of the action is centred around Lake Crackenback, riders will also explore Thredbo with the return of the 'Thredbo Ricochet' Stage to the 114km Wild Brumby Course, along with the full Thredbo Valley Track (TVT) from Thredbo to Gaden trout hatchery in the Snowy Legends Descent stage.
Learn more about the Snowies Mountain Bike Festival here.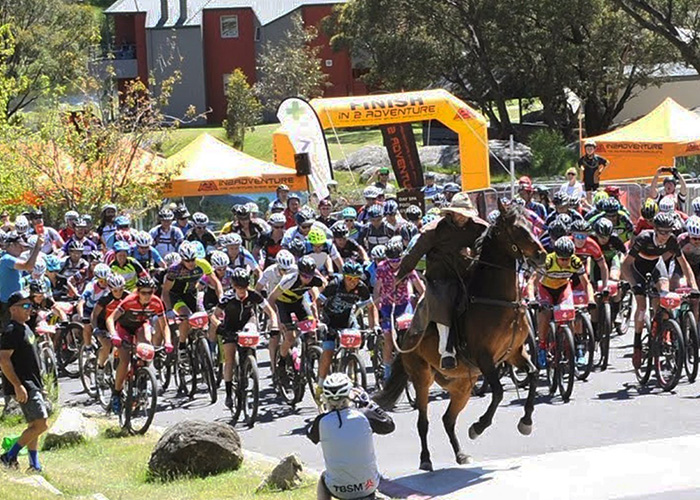 Thredbo Valley Track
This is a must-do for any visit to the region. The Thredbo Valley Track (TVT) is an epic trail that descends from Thredbo Village all the way to Gaden trout hatchery. If you're extremely enthisuastic you can continue all the way to Jindabyne via the Hatchery Bay trail.
From the world-class full 35km journey, to short technical sections and plenty of family friendly options in between, the TVT continues to be a must-do for any MTB enthusiast visiting the region.
Take your time, pack a picnic and take in the beautiful surrounds as it criss-crosses the Thredbo river numerous times. You may even want to pull up for a swim.
Opening Times
November to May: Open for cycling when the track is dry.
June to October: All bikes, including fat bikes, only permitted on the gravel track section between Bullocks Flat and Thredbo Diggings campground.
Check conditions and closures before you set out.
Learn more on the National Parks website here.
Jindabyne Trails
The ever-expanding variety of trails in and around Jindabyne make it a worthwhile visit during your stay, or even either side of it. Jindabyne enjoys a fantastic mix of XC and flow trails, with the bulk of trails overlooking the stunning Lake Jindabyne. The trails are meticulously cared for by Jindabyne Trail Stewardship. There are plenty of hidden gems to discover as well, especially if you like a challenging jump line or two.
Just outside of Jindabyne along the Barry Way is Bungarra Apline Centre, which features over 20kms of publicly accessible trails suitable for green to black riders, plus an excellent pump track and skills park.
Mt Gladstone MTB Park Cooma
"The gateway to the Snowies", Cooma, and in particular Mount Gladstone Mountain Bike Park, is another destination worth factoring into your Thredbo mountain bike holiday. Although there's no chairlift, Snowy MTB Shuttles will help you maximise your laps. Mount Gladstone has an evolving mix of trails and features and varying terrain that is much different to that which you'll find throughout the Thredbo Valley.
Boali Lodge: Perfect for your Thredbo Mountain Bike Holiday
Situated just two minutes' walk from the Kosciuszko chairlift in the heart of Thredbo Village, Boali Lodge is the perfect destination for your summer alpine escape. Boali offers exceptional value for families, friends, couples or groups looking for the ultimate winter holiday, with fully catered accommodation. Three delicious meals a day are included, starting with a hot cooked breakfast with continental options, lunch and high quality, hearty and healthy 2 course dinners.
View Members rates and booking information here.
View public guests rates and booking information here.